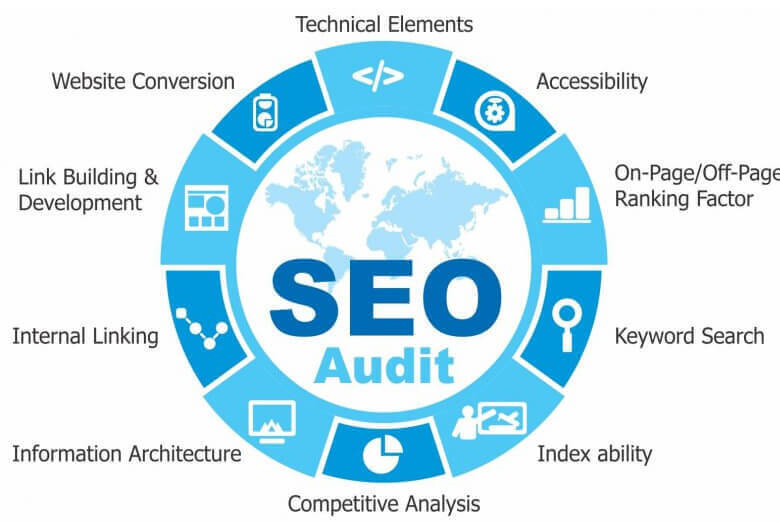 WHAT IS WEBSITE SEO AUDIT?
Website SEO audit is a detailed analysis of your website's existing SEO and rankings. This includes various aspects such as back linking, on and off page optimization, keywords employed, your website's visibility and functioning etc. You can think of it as a diagnostic process to determine your website's health issues and how they can be fixed.
Our SEO experts carry out a three step Website SEO audit for your website to ensure smooth function and greater visibility:
A basic market share analysis of the website  
A high-level SEO benchmark comparison with top 1-4 competitor websites
A Search Engine Result Page (SERP) comparison with competitor sites
An On page SEO key factor readiness analysis of the website
An Off-site  SEO Analysis
A Webmaster Tools Analysis (errors and functioning)
A basic local search engine ranking analysis
2) Evaluation:
A thorough evaluation of Internal and external SEO
An SEO benchmarking for the website
Easily comprehendible SEO metrics for you
A simple and easy to understand scoring methodology
3) Prioritization:
Prioritizing of  top SEO issues and opportunities
Development of a short term and a long term plan of action
Setting future SEO benchmarks and help in achieving them
Continuous support regarding SEO matters
WHAT ARE THE BENEFITS OF WEBSITE SEO AUDIT?
Website SEO auditing is essential for a website's smooth functioning and also to get maximum out of your business's site. Here are a few benefits of getting an SEO Audit done by our experts:
Smooth functioning of the website
Better SERP and SEO rankings
Avoidance of penalties by search engines
Great visibility to users
Maximization of profit through targeting of online traffic
Know-how of competitors and how to get ahead of them
Developing the right SEO strategy for your website
Identification of all on and off page issues and getting them fixed